Simulator time vital for Whitley ahead of her Island debut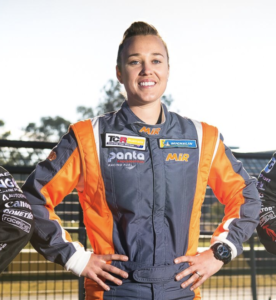 Alexandra Whitley is getting virtual race laps around Phillip Island under her belt before she arrives for her maiden meeting at the famous Victorian circuit.
One of three females stars in the 2019 carsales TCR Australia Series, Whitley has spent a number of days racing on various simulators to fast-track her learning of the new touring cars and circuit.
The Volkswagen Golf TCR driver was born in Toowoomba, Queensland, but other than her Sydney TCR debut, has only ever raced in New Zealand.
The 25 year old says that the time on the simulator will short cut many of the hurdles that she faces.
"I can't wait for Phillip Island. I've done a bit of time on the simulator just to get me familiar with the layout of the track," she told TCR Australia media.
"I've done a couple of days on a simulator in Auckland, and the team is finding me some time to get onto the McElrea Racing simulator on the Gold Coast this week. It is a state of the art simulator, and on iRacing, you can drive on Phillip Island itself, so that is going to be a major help.
"Everyone talks about Phillip Island and how great the circuit is in real life, so I can't wait to get there and see how we perform."
Whitley says she thoroughly enjoyed her TCR Australia debut in Sydney
"It's a lot of fun. The rear end is a bit looser than I expected, but it has plenty of grip on the Michelin tyres," she said.
"It was really close racing with the other drivers, but that's what we wanted to do – put on a good show.
"I was a new track, new car, new team, and we improved every time we went out on track which was our goal, so I'm feeling comfortable in the car and I'm looking forward to Phillip Island."
The second round of the carsales TCR Australia Series will be held at Phillip Island on June 7-9. CLICK HERE to secure your tickets to the first-ever TCR Australia event in Victoria.