New Wall Racing Hondas arrive in Sydney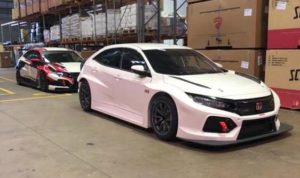 Wall Racing's two new Honda Civic Type-Rs have arrived in Sydney Australia ahead of their planned TCR Australia debuts at The Bend Motorsport Park next month.
The two new additions takes Wall Racing's total of Honda Civics up to four in its Sydney workshop, joining Tony D'Alberto and John Martin's examples that have competed in the first two rounds of the series.
The new arrivals mean that there are now over 20 eligible TCR Series cars in Australia, and likely, a record number of entrants for the next event at The Bend in South Australia on July 12-14.
At this stage, there are no drivers confirmed in the new Honda seats, however, team owner David Wall says that he is close to signing the first driver to his expanding Honda roster.
"We're close to signing one of the drivers – I'm hoping to do that deal soon," Wall said.
"We'll know more in a couple of weeks exactly how it will work out, but we'll definitely run three cars at The Bend, and potentially the fourth as well. It really depends how particular deals work out.
"These cars are exactly the same specification as our first two cars, so we are preparing to shake them down at a local track soon before getting them ready for The Bend."
Martin's Honda was involved in a significant accident during the last event at Phillip Island, and Wall says that the #24 Civic car is currently awaiting parts to complete the repair.
See video below for more with John Martin after his car crunching Island incident.