Excel driver to sample Wall Racing Honda at Winton test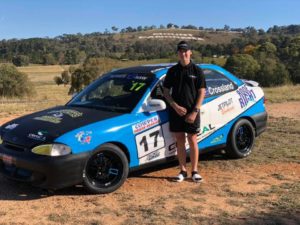 Hyundai Excel series driver Ben Crossland will drive a Wall Racing Honda in the TCR Australia test day at Winton Raceway on September 2.
In a bid to give a broad range of drivers the opportunity to sample the two litre touring cars, series organisers Australian Racing Group have implemented a test and evaluation day, allowing drivers of all skill levels to have their chance behind the wheel on the Monday after Round 5 of the series.
Crossland is one of over 30 drivers to take up the opportunity to test the TCR cars at Winton, with a wide range of drivers and experience levels getting the opportunity to sample the cars.
Crossland has showed promise in the front wheel drive ERA Excels this season and is over the moon with the opportunity to apply his learnings to the Wall Racing-prepared Honda Civic Type R at Winton Raceway.
"This is a dream come true and I am so lucky to have the support around me to make this happen," said the young driver.
"I'm so excited to get to know the car and the team at Wall Racing, I'm really looking forward to having my first test in a TCR car at Winton."
"I've spent the last season developing my speed in a front wheel drive car, the Excels are an awesome stepping stone from karts. The speed and grip of the TCR combined with the fact that the car is left hand drive will give me plenty to think about.
"TCR is proving to be a category with a future in Australia, also offering opportunities now in New Zealand and Asia – so I know that a test like this is an excellent step in my career not to mention a whole lot of fun!"
Limited spaces remain with the various teams that have committed to the test day. For more information, contact category manager Liam Curkpatrick via email >> liam@australianracinggroup.com.
Round 5 of the carsales TCR Australia Series will be held at Winton Raceway in a unique two-day racing format. CLICK HERE for more details on the schedule for the Winton event.