Gamer to Racer confirmed for TCR Australia debut at The Bend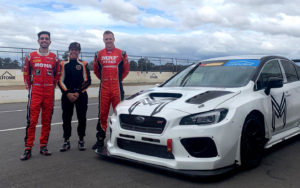 Mat Simmons will make his carsales TCR Australia debut at The Bend Motorsport Park this weekend.
The former gaming sensation who won his way into a professional motor racing career with Nissan via a Playstation competition will be joined by experienced driver Barton Mawer in the two-car Milldun Motorsport Subaru WRX TCR cars.
Simmons' start in motorsport came after winning the International GT Academy competition where he beat some of the best gamers in the world, securing what would become two full seasons in the Blancpain GT Endurance Series, driving a Nissan GT-R NISMO GT3.
Now based in Melbourne, Simmons contested races all around the world at circuits like Spa Francorchamps, Silverstone and Paul Ricard.
After his racing deal with Nissan ended in 2017, Simmons has not contested a 'real life' motor race. To keep himself sharp, he has returned to his gaming, competing in a variety of virtual competitions here in Australia, Japan and the United States.
Now, he is ready to restart his circuit racing career, testing the Subaru at Winton recently and is not only looking forward to driving at The Bend Motorsport Park for the first time, the event will be his first-ever car race on Australian soil.
Mawer needs no introduction to the Australian motorsport scene, having racing a variety of open wheelers, sports cars and prototype machines over the past two decades.
He recently competed in the historic opening S5000 event at Sandown, and while he still harbours an ambition to compete in that class, he has elected to try his hand in the booming touring car series.
This round represents Milldun Motorsport's first time racing the Subarus after the cars moved from Kelly Racing recently.
The team has conducted two test sessions since taking over the preparation of the cars, with Simmons, Mawer and rally ace Eli Evans enjoying time in the cars. The team has worked tirelessly to resolves some of the reliability issues that plagued the cars in the opening rounds.
The two Subarus are amongst a record 20-car field at The Bend, including cars from Peugeot and CUPRA making their TCR Australia debut.
Two practice sessions will be held on Friday, followed by qualifying nd Race 1 on Saturday and two more races on Sunday.
All three races will be broadcast live, free and in HD on SBS, as well as the live stream coverage available on the TCR Australia website.
Tickets are available for The Bend. CLICK HERE for details.
QUOTES
Mat Simmons
Driver, Milldun Motorsport Subaru WRX TCR
"It's exciting to get my first chance to race in the TCR Australia Series, and a great chance to get back into the driver's seat," said Mat Simmons.
"TCR has proved to be really exciting, diverse class of racing. There are some extremely good drivers and teams in the field, and it is already regarded as one of the fiercest competitions n Australia.
"I definitely need to pay a big thank you to Milldun Motorsport for the opportunity in the Subaru. The team was great at the test, we all learnt a lot and I feel that they have really turned a corner in these cars.
"It's also my first chance to race on Australian soil. This is something that I've always wanted to do and it's great that I'll get to tick this box.
"The Subarus are really fun and very rewarding to drive when you get it right. On the test day, we went through a solid program and we were able to have a positive day. Milldun Motorsport has done a great job with these cars, and I feel that their hard work will pay off in the near future."
Barton Mawer
Driver, Milldun Motorsport Subaru WRX TCR
"Racing in TCR is certainly going to be different to what I'm used to, but I really can't wait," said Barton Mawer.
"We had a shakedown at Winton, which was good to get a feel for the car, which I have to say is a lot different to the Porsche RP 968 that I last drove at the World Time Attack!
"I actually have an affinity with the Subaru brand. I won the inaugural 10 hour event at Sydney Motorsport Park some years ago, so I've always been fond of Subaru and the WRXs.
"Milldun Motorsport has worked hard on the two TCR Subarus, so the plan is to go to the Bend, get a reliable, strong result and show that the cars deserve to be in the series."