NSW state racer makes step up to TCR in Hyundai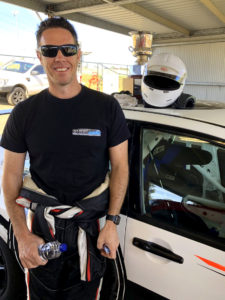 New South Wales-based state racer Michael King will compete in 2020 TCR Australia Series, securing a brand-new Hyundai i30 N machine.
The 43-year-old will make the step up from Improved Production car racing into the competitive local TCR series, joining a potential field of 30-plus turbo-charged entries.
King started his racing career later than most, initially getting into the sport via super sprints before competing in NSW Improved Production where he has claimed the state title in the past two years.
He also won the NSW Production Touring Car class this year, giving him the perfect incentive to make the leap from state to national competition.
King's Hyundai will be run by DashSport, based in Galston, NSW and run under the AH Racing banner. DashSport is the same team that has prepared King's cars during his recent success on the NSW state scene.
DashSport took deliver of the brand-new Hyundai on Tuesday and will test the car at Wakefield Park on Friday, overseen by HMO Customer Racing.
King and his team of sponsors will enjoy live and free broadcasting inn the channels of Seven in 2020, featuring on the Shannons Motorsport Australia Championships events.
The series will take in nine official race events, kicking off at the Asia Pacific Cup, to be held at Albert Park alongside the Formula 1 Australian Grand Prix on March 12-15.
QUOTES
Michael King
Driver, AH Racing
"I'm really looking forward to making the big step up to TCR Australia. It's going to be a year of fun," said Michael King.
"My plan is to ease our way in to it. I want to finish each race and just build up my speed and results as the year progresses.
"Some of my friends and family have been saying to me that I should be aiming for a top 10, but really, I just want to have fun with it. I'm just grateful to have the chance to race at this level.
"I had watched a lot of international TCR racing prior to this year, and it's very competitive and the cars are so cool. Once it was announced it was coming to Australia, I was really excited, and I wanted to race straight away, but I thought I'd watched from afar, and obviously, it has been awesome.
"I feel that ARG has done a really good job running it, the television package for 2020 is great and it was only a matter of time before I decided to have a crack at it.
"It is also great dealing with HMO Customer Racing too. Those guys have been unreal and a good support. They have been very helpful in every way. I'm asking questions every day and they help where they can. They are excellent and I can't wait to get into the car on Friday and see what it's all about."