New Hyundai driver pleased with TCR track debut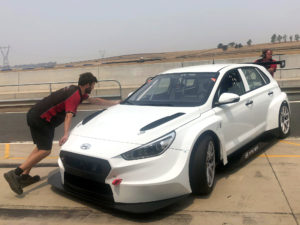 New Hyundai driver Michael King is thrilled with the performance of his new Hyundai i30 N TCR car as he prepares for the 2020 TCR Australia Series.
Announced yesterday, King has secured a brand-new Hyundai TCR machine and will complete in the entire series next year, including the season-opening Asia Pacific Cup at Albert Park, supporting the Formula 1 Australian Grand Prix.
The 43-year-old New South Welshman has spent the entire day at Wakefield Park getting accustomed to his new car, to be run by DashSport Performance.
King says that he is pleased with his first day on track with his new car.
"The test has gone really well," King told TCR Australia's website.
"The i30 N is unreal. Out of the box, cold tyres, cold track, I had a couple of small offs, but I've been improving every lap, and I've been able to get down to a respectable lap time.
"We've been making a few changes each session. I haven't found it's limits, but it is so much fun to drive."
King has received assistance from key staff at HMO Customer Racing today, including driver Nathan Morcom, who has been offering driving technique and set-up advise.
"The assistance they've given us has been great," he said.
"They've taken us from no where to someone, from car set-up and learning different parts of the car – It's just been invaluable.
"Nathan has been giving me some tips on how to get more out of it and has helped me get the lap times down."
King plans to complete at least one more test in the new year, either at Wakefield Park or Sydney Motorsport Park, ahead of the opening event at Albert Park on March 12-15.