Formula Ford race winner set for TCR Australia debut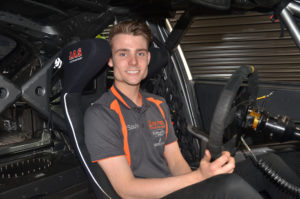 Stand-out Formula Ford ace Zac Soutar will enter the 2020 TCR Australia Series after securing a Honda Civic Type R.
The 22-year-old Victorian and his family-run Team Soutar Motorsport squad has purchased the ex-Tony D'Alberto Civic that scored pole position in the opening round of the 2019 season at Sydney Motorsport Park.
Soutar has spent the past three season competing in Australian Formula Ford, finishing second this year in his privately-entered Mygale.
One his way to second place, Soutar picked up five race wins and two overall round victories.
His family team has decided to continue to enter their own race cars in TCR, and will work closely with Honda's Australian importer Wall Racing at each event.
The deal means that there will be two privately-entered Civics in the 2020 field, following the recent news that former Hyundai Excel driver Michael Clemente will compete in an ex-Wall Racing Honda.
Soutar will get his first drive of the Civic Type R in a private test at Winton Raceway this Friday.
The 2020 TCR Australia Series will take in nine official race events, kicking off at the Asia Pacific Cup, to be held at Albert Park alongside the Formula 1 Australian Grand Prix on March 12-15.
QUOTES
Zac Soutar
Driver, Team Soutar Motorsport Honda
"I'm really open minded and ready to learn about how to make these cars fast," said Zac Soutar.
"I'm in no rush to be at the front of the field straight away. I feel like this is a class I could be in for a long time, so my plan is to get comfortable and build towards a long future in the category. It's not a stepping stone class an I'd love to be in TCR Australia for a few years.
"Having said that, if there's an opportunity to race overseas, I'd love to take on that challenge. I'm very open minded, so we'll just see what the future brings.
"I'm looking forward to continuing to run my own car, just like I did in Formula Ford. TCR is a category where people who want to run their own show is entirely possible. In Supercars or Carrera Cup, there isn't those opportunities on a privateer budget.
"The broadcast package and the event coverage is amazing too. We have been blown away by how much interest there has been in the category after just one season. We are definitely excited to be a part of that growth.
"I've always loved the Honda Civic road cars too. They are a classic and, obviously, very competitive in the TCR world.
"There are so many Honda Civics out there on the road. There's also plenty of Honda owners clubs and lots of support for such an iconic brand, so I'm confident that we've picked the right car to be in."