Track advantage could play into Stan van Oord's hands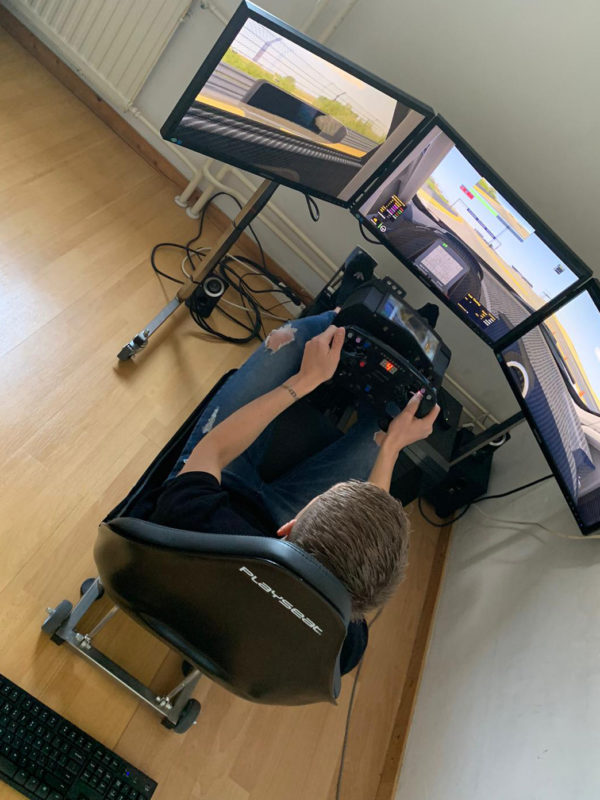 Stan van Oord will make his debut in the carsales ARG eSport Cup at Zolder tonight.
The Dutch racer competed at the ill-fated Albert Park event last month, but due to a late-arriving simulator, missed the opening round of the online racing league.
Van Oord is one of only two drivers in the 40 car field to have actually raced at the Belgian circuit for real. Van Oord has competed in various TCR series at the former Grand Prix venue, while Honda TCR regular John Martin has raced at the venue in the Super Formula open wheel competition.
He says he is ready to challenge the fast online racers.
"Zolder feels like a home race for me. I drove quite a lot of laps there in both the Audi and Cupra TCR.  It will be my first ever online league race and I'm really looking forward to it," he said."
"I have been doing a lot of online practice with my coach, Niels Langeveld, and I already noticed that there is still a lot to learn even though I know the track
"I think the main reason we do the eSport Cup is to learn and improve our skills, as well as to entertain the fans. For us drivers, it is great to get some good on-track fun  We need to make the best of the current situation."  
All 40 drivers competing in Round 2 have a connection to the Australian Racing Group's suite of motorsport categories, including TCR Australia, TCR New Zealand, S5000, Touring Car Masters, Trans Am and the V8 Touring Cars.
See below for the full 40 car field.
Round 2 at Zolder will feature the Audi RS 3 LMS car, with set-ups frozen to ensure a level playing field.
Racing kicks off at 8pm AEST and can be seen live on YouTube (live stream below) and Facebook.
Round 2 Entry List
| | | | | | |
| --- | --- | --- | --- | --- | --- |
| Car # | Category | SPONSOR | DRIVER | STATE | CAR COLOUR |
| 1 | TCR | HMO Customer Racing | Will Brown | QLD | White/Blue |
| 2 | TCR | Melbourne Performance Centre | Chelsea Angelo | VIC | White/Blue |
| 4 | TCR | Carsales | Mike Sinclair | VIC | White/Blue |
| 5 | Trans Am | Retractable Tarps | George Miedecke | QLD | Red |
| 6 | TCR | Garry Rogers Motorsport | Jordan Cox | VIC | White/Green/Red |
| 8 | Trans Am | Harris Racing Pty Ltd | Aaron Seton | QLD | Yellow |
| 9 | TCR | Ashley Seward Motorsport / AWC | Jay Hanson | VIC | White/Green/Red |
| 11 | TCR | HMO Customer Racing | Nathan Morcom | NSW | White/Blue |
| 12 | Trans Am | RTC Motorsport | Peter Herd | NSW | Black |
| 15 | TCR | Wurth | Michael Clemente | VIC | White/Red |
| 17 | TCM | Team Johnson | Jett Johnson | QLD | Blue |
| 18 | TCR | Team Valvoline GRM | Aaron Cameron | VIC | White/Red/Blue |
| 21 | V8TC | United eSports | Harley Haber | NSW | White |
| 22 | TCR | Track Tec Racing | Jack Milligan | NZ | Orange/Silver |
| 23 | S5000 | UCS Group | Tim Macrow | VIC | Black/Orange |
| 24 | TCR | Wall Racing | John Martin | NSW | White/Red |
| 27 | S5000 | Milldun Motorsport | Barton Mawer | NSW | Black/White |
| 29 | Trans Am | Gulf Western Oils | Nathan Herne | QLD | Orange/Silver |
| 31 | S5000 | Team Valvoline GRM | James Golding | VIC | White/Red/Blue |
| 33 | TCR | Renault Sport GRM | Dylan O'Keeffe | VIC | Yellow |
| 35 | V8TC | Unit | Jason Gomersall | QLD | Silver/Grey |
| 38 | TCR | Wall Racing | Tim Mcreynolds | NSW | White/Red |
| 39 | ARG | Michelin | Ben McMellan | VIC | Blue/Yellow |
| 41 | TCR | Wolfchester | Trent Harrison | VIC | Black |
| 47 | TCR | Track Tec Racing | Jaden Ransley | NZ | Orange/Silver |
| 48 | Trans Am | Melbourne Performance Centre | Nic Carroll | VIC | Blue |
| 49 | S5000 | ACT Fence Hire | Thomas Randle | VIC | Black/Orange |
| 55 | TCR | Signature Homes | Rhys Gould | NZ | Black/Red |
| 64 | TCR | Garage1 / Morris Finance | Tim Brook | NSW | White/Red |
| 67 | TCM | Bilstien/JMG Racing | Jeremy Gray | NSW | Blue |
| 68 | V8TC | Turbo Brisbane | Jonathan Beikoff | QLD | White/Blue/Red |
| 75 | TCR | Melbourne Performance Centre | Garth Tander | VIC | Grey/Red/Black |
| 77 | TCR | Track Tec Racing | Stan Van Oord | NED | Grey/Orange |
| 89 | S5000 | SignageOne | Braydan Willmington | NSW | Green |
| 92 | S5000 | Motum Simulation | Ricky Capo | VIC | Red |
| 99 | Trans Am | TPS Group | Brett Holdsworth | VIC | Red |
| 116 | TCR | Panta Racing Fuel | Ash Sutton | ENG | Black/White |
| 117 | TCR | Burson Auto Parts Racing | Ben Bargwanna | VIC | White |
| 133 | TCM | Juice Plus + | Cameron Mason | NSW | Green |
| 777 | TCR | Declan Fraser Racing | Declan Fraser | QLD | White |