Tim Brook gets sophisticated sim for ARG eSport Cup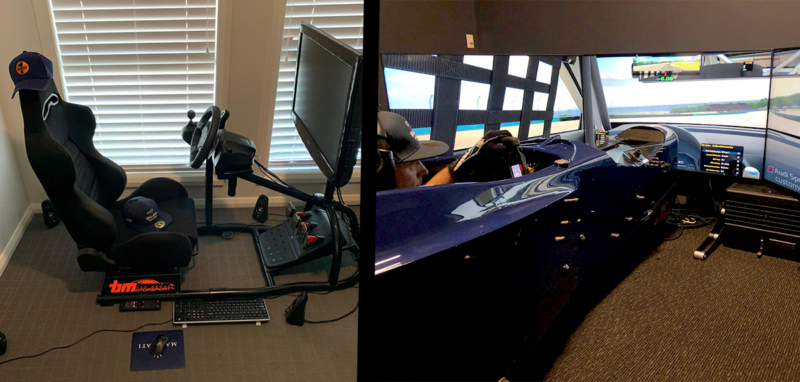 TCR Australia competitor Tim Brook will step up to one of the most sophisticated simulators in Australia for Round 3 of the carsales ARG eSport Cup at Watkins Glen tomorrow night.
In a collaboration between the Australian Racing Driver's Club, based at Sydney Motorsport Park, and EurOz Driver Performance and Driving Solutions, the New South Welshman will drive a custom-built 'Pro-Sim' simulator, based at SMSP.
Designed and built in the United Kingdom, Pro-Sim manufactures simulators for leading Formula 1 race teams, with McLaren F1 driver Lando Norris the company's official ambassador.
There is only three Pro-Sim units in Australia – two privately owned and the third based permanently at Sydney Motorsport Park.
The cost of one of the custom-built Pro-Sims are in excess of $100,000.
Having contested the opening two rounds of the carsales ARG eSport Cup from his home in his own simulator, Brook is looking forward to stepping up to an elite level of driving simulator.
"The Pro-Sim is an unbelievable package and really enhances the experience," he said.
"And to be doing it above the garages at Sydney Motorsport Park really adds to the whole feel as well."

Unlike other motion-based simulators where the whole platform moves, the Pro-Sim design uses tactile feedback, offering vibrations through the seat and cockpit to mimic the real world feel.
According to Oli Myers, head coach at EurOz Driver Performance and operator of the SMSP-based Pro-Sim simulator, the unique simulator is the most realistic this country has to offer.
"The reason Pro-Sim do not use motion is that tactile feedback gives a more realistic feel to what is going on inside a race car," he said.
"All of the F1 sims use tactile feedback. Motion gives a false feeling. It looks amazing, but for professional simulation, it doesn't recreate the experience.
"At the end of the day, you can't simulate the real g-forces from a real car, so this is the best compromise to give the drive that on-track feel."
After two rounds, Brook currently sits 21st in the series standings.
Round 3 of the carsales ARG eSport Cup will be held at Watkins Glen tomorrow night, with a qualifying race to find three extra wildcards being held tonight. CLICK HERE for more details.