Oscar Piastri stars in carsales ARG eSport Cup at Barcelona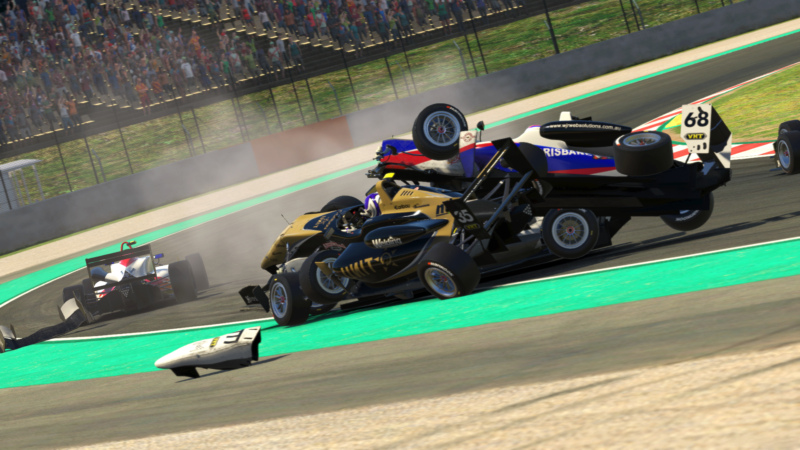 Renault Junior driver Oscar Piastri has played a starring role in Round 5 of the carsales ARG eSport Cup during his one-off appearance in the online series at Circuit de Catalunya tonight.
The young Australian Formula 1 hopeful qualified second before claiming a strong Race 1 win and a hard-charging third in the two Formula 3 races in Spain.
The 19-year-old made a perfect start, with a comfortable lights-to-flag win in the 20-minute opener while pole-sitter and early race threat Luca Giacomin, representing the Garry Rogers Motorsport team, spun at the first corner to drop himself out of contention.
Piastri seemlingly cruised to victory, with his his final margin over National Trans Am Series driver Nathan Herne more than three seconds.
TCR Australia regular Dylan O'Keeffe finished a third, with S5000 leading driver Thomas Randle taking fourth. Rounding out the top 10 was young TCR Australia driver Jay Hanson, Jordan Cox, wildcat entrant Luke King, S5000's Ricky Capo, Peugeot TCR star Aaron Cameron and Kiwi Jayden Ransly.
Points leader Harley Haber endured a difficult first race. A clash with former series leader Ash Sutton threw the V8 Touring Car driver into the fence at Turn 2, leaving him in a lowly 14th at the finish.
Haber used the disappointing result to his advantage in the reverse grid Race 2, storming through for a commanding win. In a stunning first lap, Haber roared his way to the lead on the first lap – a lead he would not surrender.
Randle and Piastri played starring roles in the second race, charging from the back of the Top 20 to round out the podium.
Trans Am racers George Miedecke and Brett Holdsworth rounded out the first five, while Herne could only make it up to 12th.
Haber continues to the lead the series (288) from Herne (272), O'Keeffe (248), Ransley (238) and Sutton (236) who dropped to fifth after a less than ideal night.
Round 6 brings the carsales ARG eSport Cup back to Australia and to the famous Victorian circuit at Phillip Island. The race will be broadcast live and free on Facebook and YouTube, May 7 from 8pm AEST.
Points after Round 5
| | | | | |
| --- | --- | --- | --- | --- |
| POS | Car # | Category | Driver | Series Points |
| 1 | 21 | V8TC | Harley Haber | 288 |
| 2 | 29 | Trans Am | Nathan Herne | 272 |
| 3 | 33 | TCR AU | Dylan O'Keeffe | 248 |
| 4 | 47 | TCR NZ | Jaden Ransley | 238 |
| 5 | 116 | TCR AU | Ash Sutton | 234 |
| 6 | 6 | TCR AU | Jordan Cox | 207 |
| 7 | 75 | TCR AU | Garth Tander | 182 |
| 8 | 18 | TCR AU | Aaron Cameron | 174 |
| 9 | 7 | TCR AU | Luca Giacomin | 171 |
| 10 | 38 | TCR AU | Tim Mcreynolds | 169 |
| 11 | 64 | TCR AU | Tim Brook | 166 |
| 12 | 39 | ARG | Ben McMellan | 158 |
| 13 | 48 | Trans Am | Nic Carroll | 158 |
| 14 | 49 | S5000 | Thomas Randle | 155 |
| 15 | 68 | V8TC | Jonathan Beikoff | 154 |
| 16 | 26 | TCR NZ | Tom Alexander | 151 |
| 17 | 89 | S5000 | Braydan Willmington | 147 |
| 18 | 31 | S5000 | James Golding | 146 |
| 19 | 8 | Trans Am | Aaron Seton | 140 |
| 20 | 5 | Trans Am | George Miedecke | 136 |
| 21 | 99 | Trans Am | Brett Holdsworth | 134 |
| 22 | 92 | S5000 | Ricky Capo | 120 |
| 23 | 2 | TCR AU | Chelsea Angelo | 107 |
| 24 | 15 | TCR AU | Michael Clemente | 107 |
| 25 | 117 | TCR AU | Ben Bargwanna | 107 |
| 26 | 9 | TCR AU | Jay Hanson | 107 |
| 27 | 23 | S5000 | Tim Macrow | 97 |
| 28 | 27 | S5000 | Barton Mawer | 94 |
| 29 | 10 | TCR NZ | Niels Langeveld | 91 |
| 30 | 11 | TCR AU | Nathan Morcom | 81 |
| 31 | 24 | TCR AU | John Martin | 81 |
| 32 | 81 | S5000 | Oscar Piastri | 72 |
| 33 | 35 | V8TC | Jason Gomersall | 66 |
| 34 | 133 | TCM | Cameron Mason | 64 |
| 35 | 777 | TCR AU | Declan Fraser | 63 |
| 36 | 41 | TCR AU | Trent Harrison | 60 |
| 37 | 55 | TCR NZ | Rhys Gould | 52 |
| 38 | 22 | TCR NZ | Jack Milligan | 45 |
| 39 | 4 | TCR AU | Mike Sinclair | 44 |
| 40 | 222 | TCR AU | Luke King | 43 |
| 41 | 77 | TCR NZ | Stan Van Oord | 39 |
| 42 | 19 | TCR AU | Matt Simmons | 38 |
| 43 | 12 | Trans Am | Peter Herd | 38 |
| 44 | 67 | TCM | Jeremy Gray | 38 |
| 45 | 28 | TCR AU | Rowan Shepherd | 37 |
| 46 | 91 | TCR AU | Jaxon Evans | 37 |
| 47 | 17 | TCM | Steve Johnson | 36 |
| 48 | 1 | TCR AU | Will Brown | 22 |
| 49 | 3 | TCR AU | Lee Partridge | 16 |
| 50 | 17 | TCM | Jett Johnson | 15 |
| 51 | 30 | TCR AU | Sam Stratten | 10 |
| 52 | 148 | TCR NZ | Andrew Waite | 7 |
| 53 | 122 | TCR AU | Blake 'Bilko' Williams | 4 |
| 54 | 50 | TCR AU | Tony D'Alberto | 4 |
| 55 | 88 | TCR AU | Tim Dossett | 3 |
| 56 | 85 | TCM | Adam Garwood | 2 |
| 57 | 14 | TCR AU | Aaron Borg | 2 |
| 58 | 117 | TCR AU | Jason Bargwanna | 1 |