Tony D'Alberto leaves commentary duties behind for ARG eSport Cup entry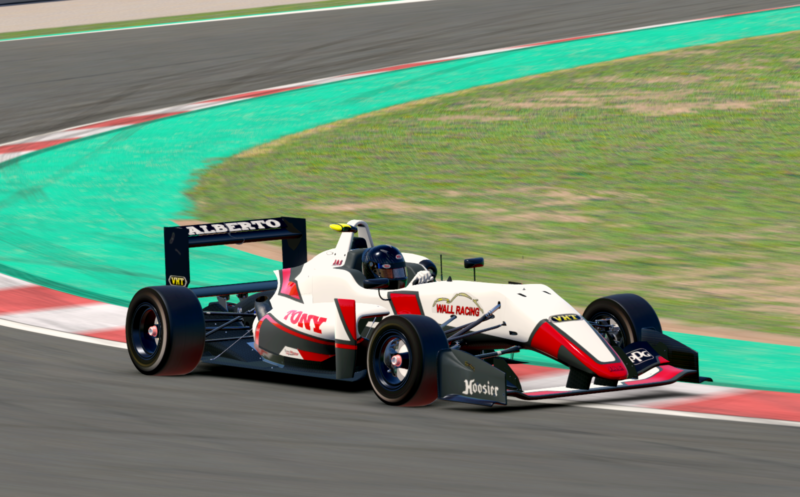 TCR Australia Honda driver Tony D'Alberto will take on a new role for Round 5 of the carsales ARG eSport Cup tonight.
The factory-supported Honda TCR driver has played the role of expert commentator for the first four rounds, but after a recent simulator upgrade and a desire to get behind the wheel again, D'Alberto will compete in tonight's fifth round of the series at the Circuit de Catalunya, Barcelona.
A former Supercars Super2 Series winner and runner-up in the inaugural TCR Australia Series,  tonight's event will mark D'Alberto's first-ever race in a simulator.
D'Alberto's place on the grid will increase the size of the field to 44 cars, including the 38 regular drivers from the Australian Racing Group's stable of categories, three wildcard entries that won their way through a qualifying race last night, and 'Star' driver Oscar Piastri who is contesting a one-off round.
The three drivers to win their way through to tonight's race are former Toyota 86 driver Luke King, Garry Rogers Motorsport representative Luca Giacomin and New Zealander Tom Alexander, competing for TCR NZ team Track Tec Racing.
With D'Alberto in the race, he will be replaced in the commentary box by regular Shannons Motorsport Australia Championship pit lane commentator Cameron van den Dungen.
The carsales ARG eSport Cup competitors will drive the Formula 3 cars for the second round in a row tonight, tipping the hat to ARG's mighty VHT Australian S5000 Championship that will contest its inaugural championship this year.
V8 Touring Car driver Harley Haber leads the series from British Touring Car champion Ash Sutton and Trans Am ace Nathan Herne.
Round 5 can be seen live and free on the TCR Australia Facebook and YouTube channels, as well as supporting outlets. The broadcast starts at at 8pm AEST.
QUOTES
Tony D'Alberto
Honda TCR Australia driver
"I've enjoyed my time in the commentary box, but I haven't been in a car race since November last year, so I need my racing fix!" said D'Alberto.
"There's a lot of first for me tonight – my first sim race, first F3 race, but I very much doubt there will be any first place finishes!
"You can see how much the drivers have been improving over the past month. There were lots of incidents in the first few rounds, and there still are some crashes, but it's clear that the field is lifting its game – in terms of speed and online race craft.
"None of that is great news for me! I'm a few weeks behind them, so I'll try and be as clean and smooth as possible and drag my F3 rig as far as I can up the field.
"While we'd all prefer to be racing for real, the online racing that we've seen has been brilliant and I can't wait to get onto the grid tonight."
LIVE FEED FROM 8pm AEST
ROUND 5 ENTRY LIST
| | | | | |
| --- | --- | --- | --- | --- |
| Car # | Category | SPONSOR | DRIVER | STATE |
| 1 | TCR AU | HMO Customer Racing | Will Brown | QLD |
| 2 | TCR AU | Melbourne Performance Centre | Chelsea Angelo | VIC |
| 4 | TCR AU | Carsales | Mike Sinclair | VIC |
| 5 | Trans Am | Retractable Tarps | George Miedecke | QLD |
| 6 | TCR AU | Garry Rogers Motorsport | Jordan Cox | VIC |
| 7 | Wildcard | Team Valvoline GRM | Luca Giacomin | VIC |
| 8 | Trans Am | Harris Racing Pty Ltd | Aaron Seton | QLD |
| 9 | TCR AU | Ashley Seward Motorsport / AWC | Jay Hanson | VIC |
| 11 | TCR AU | HMO Customer Racing | Nathan Morcom | NSW |
| 12 | Trans Am | RTC Motorsport | Peter Herd | NSW |
| 15 | TCR AU | Wurth | Michael Clemente | VIC |
| 17 | TCM | Team Johnson | Steve Johnson | QLD |
| 18 | TCR AU | Team Valvoline GRM | Aaron Cameron | VIC |
| 21 | V8TC | United eSports | Harley Haber | NSW |
| 23 | S5000 | UCS Group | Tim Macrow | VIC |
| 24 | TCR AU | Wall Racing | John Martin | NSW |
| 26 | Wildcard | Track Tec Racing | Tom Alexander | NZ |
| 27 | S5000 | Milldun Motorsport | Barton Mawer | NSW |
| 29 | Trans Am | Gulf Western Oils | Nathan Herne | QLD |
| 31 | S5000 | Team Valvoline GRM | James Golding | VIC |
| 33 | TCR AU | Renault Sport GRM | Dylan O'Keeffe | VIC |
| 35 | V8TC | Unit | Jason Gomersall | QLD |
| 38 | TCR AU | Wall Racing | Tim Mcreynolds | NSW |
| 39 | ARG | Michelin | Ben McMellan | VIC |
| 47 | TCR NZ | Track Tec Racing | Jaden Ransley | NZ |
| 48 | Trans Am | Melbourne Performance Centre | Nic Carroll | VIC |
| 49 | S5000 | ACT Fence Hire | Thomas Randle | VIC |
| 50 | TCR AU | Wall Racing | Tony D'Alberto | VIC |
| 55 | TCR AU | Signature Homes | Rhys Gould | NZ |
| 64 | TCR AU | Garage1 / Morris Finance | Tim Brook | NSW |
| 67 | TCM | Bilstien/JMG Racing | Jeremy Gray | NSW |
| 68 | V8TC | Turbo Brisbane | Jonathan Beikoff | QLD |
| 75 | TCR AU | Melbourne Performance Centre | Garth Tander | VIC |
| 77 | TCR NZ | Track Tec Racing | Stan Van Oord | NED |
| 81 | S5000 | HP Tuners | Oscar Piastri | VIC |
| 89 | S5000 | SignageOne | Braydan Willmington | NSW |
| 92 | S5000 | Motum Simulation | Ricky Capo | VIC |
| 99 | Trans Am | TPS Group | Brett Holdsworth | VIC |
| 116 | TCR AU | Panta Racing Fuel | Ash Sutton | ENG |
| 117 | TCR AU | Burson Auto Parts Racing | Ben Bargwanna | VIC |
| 133 | TCM | Juice Plus + | Cameron Mason | NSW |
| 148 | TCR NZ | Track Tec Racing | Andrew Waite | NZ |
| 222 | Wildcard | PERTAMINA/Fast Track Comms | Luke King | NSW |
| 777 | TCR | Declan Fraser Racing | Declan Fraser | QLD |